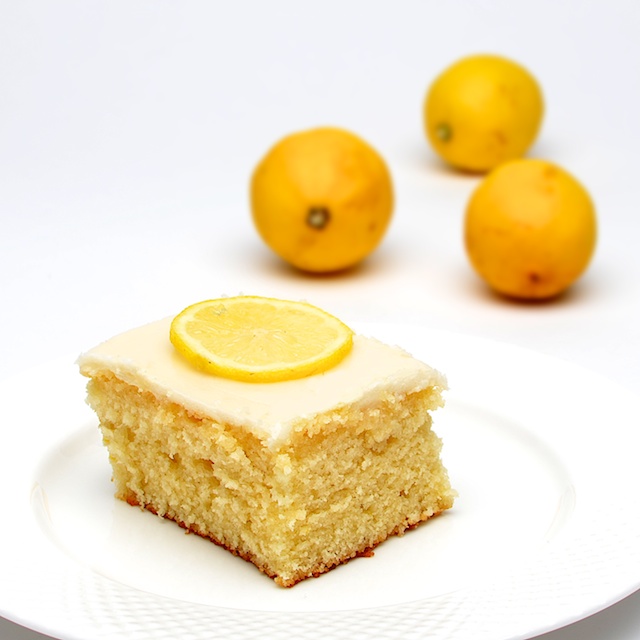 I made this cake for dessert last night. It received a double thumbs-up from everyone. It's nice and lemony and it reminds me of summer. This cake makes me happy.  The cake itself is quite moist and has a nice crumb.  The frosting is both sweet and tart.
Cakes are so easy to make when you dump the batter into a 9 x 13″ pan. I don't often make layer cakes because they frighten me. I find them labor intensive, and they never turn out as well as I'd like them to. I always tell people that cooking is easy if you have the right tools. Maybe I wouldn't be so afraid of layer cakes if I had one of those stands that lets the cake spin around when you frost it. Or maybe I'm just bad at layer cakes.
The boys all want me to make this cake again. It's not at all fancy, but I think I'll make it the next time we have company. It's really, really good.
Lemonade Cake
Recipe from Better Homes and Gardens

Cake:
1/3 cup butter, softened
3 eggs
2 1/4 cup flour
1 teaspoon baking powder
1/2 teaspoon baking soda
1/2 teaspoon salt
1 1/3 cups sugar
1/4 cup frozen lemonade concentrate, thawed
1 teaspoon vanilla extract
1 1/4 cup buttermilk

Frosting:
1/3 cup butter, softened
3-4 cups powdered sugar
1/3 cup plus 2 Tablespoons frozen lemonade concentrate, thawed
1 teaspoon vanilla extract

Preheat the oven to 350 degrees F. Grease a 13x9x2-inch baking pan; set aside. In a medium bowl stir together flour, baking powder, baking soda, and salt; set aside.

In a large mixing bowl beat butter with an electric mixer on medium to high speed for 30 seconds. Gradually add sugar, beating on medium speed until well combined. Scrape sides of bowl; beat for a couple of minutes more. Add eggs, one at a time, beating well after each addition. Mix in lemonade concentrate and vanilla. Alternately add flour mixture and buttermilk, beating on low speed after each addition just until combined. Pour batter into prepared pan.

Bake for 30 to 35 minutes or until top springs back when lightly touched. Cool in pan on a wire rack.

While the cake is cooling, make the frosting. Using an electric mixer, mix the butter and one cup of confectioners sugar until well combined. Add the lemonade and vanilla. Mix again until combined. Continue to add powdered sugar until your frosting reaches a consistency that you like. When the cake is cooled, spread the frosting on the cake.

Yield: ~15 servings

One year ago:Creamy Broccoli and Cheddar Soup
Two years ago:French Silk Pie
Three years ago:Beef, Cheddar and Potato Pie
Four years ago:Mexican Chocolate Tofu Pudding
Five years ago:Blueberry Muffins

Print This Recipe