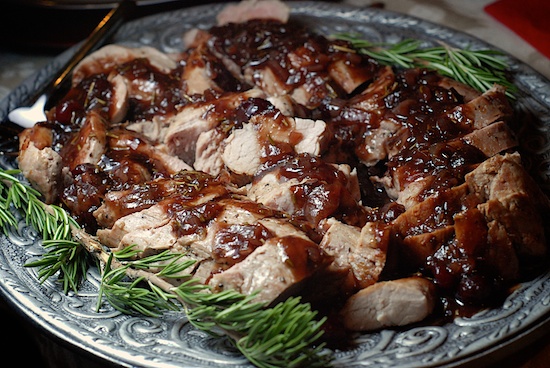 I served this for dinner on Christmas Eve. I usually make something more grand, like a crown roast of pork, or beef wellington, but this year, my sister was coming with her two small children (aged 2 and 8 months), so I wanted something that would cook quickly because I start cooking when we get home from 5:30 Mass and I didn't want to serve dinner too late. Her husband is in Afghanistan (please keep him in your prayers), so she was by herself with the kids.
If you make the sauce earlier in the day, this entree does come together very quickly, but I don't recommend having a couple of Champagne Cosmos and chatting with your guests before you start to cook it because it will result in dinner being served much later than you want.
The cranberry balsamic sauce is delicious, but it is on the sweet side. The taste of rosemary is also very present. The sauce is delicious, but you must like rosemary, cranberries and balsamic vinegar to enjoy it. I loved it and will definitely make this again.
I quadrupled the recipe as the recipe as written below serves 2. When you quadruple the recipe, all of the cooking times are slightly longer.

Pork Tenderloin with Balsamic-Cranberry Sauce
Recipe adapted from epicurious.com

1 1/2 tablespoons butter
1 8- to 10-ounce pork tenderloin
1/2 cup chopped shallots
1 tablespoon chopped fresh rosemary
1/2 cup canned low-salt chicken broth
1/3 cup canned whole berry cranberry sauce
1 tablespoon balsamic vinegar

Preheat oven to 450°F. Melt 1/2 tablespoon butter in heavy large ovenproof skillet (preferably a cast iron pan) over medium-high heat. Sprinkle pork with salt and pepper. Sear pork on all sides, about 2 minutes. Place skillet with pork in oven. Roast pork until thermometer inserted into center registers 155°F, about 10 minutes. If you are cooking more than one tenderloin, they will likely cook for more than 10 minutes.

Meanwhile, melt remaining 1 tablespoon butter in heavy medium skillet over medium-high heat. Add shallots and rosemary; sauté until onion softens, about 3 minutes. Add broth, cranberry sauce and vinegar and whisk until cranberry sauce melts, about 2 minutes.

Transfer pork to work surface. Scrape any juices from large skillet into cranberry mixture. Boil until sauce has reduced enough to coat spoon thickly, about 6 minutes (or longer if you are doubling the recipe). Season with salt and pepper. Slice pork and serve with sauce.

Yield: 2 servings

One year ago: Clementine Vanilla Bean Quick Bread
Two years ago: Quinoa Pilaf with Pine Nuts
Three years ago: The Ultimate Quiche

Print This Recipe