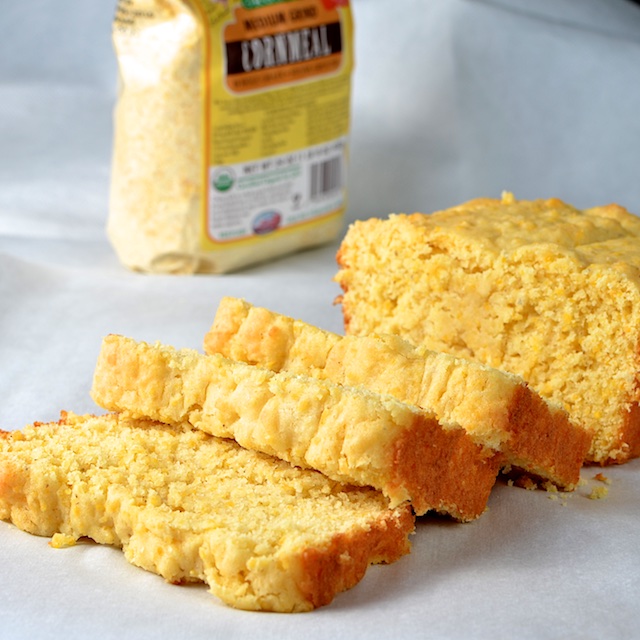 I have made this corn bread several times now. We'll eat it with dinner, then I'll serve it again as toast for breakfast. Making cornbread in a loaf pan allows you to easily slice it into toaster-friendly pieces. This recipe is delicious toasted, and spread with butter. This is a very moist cornbread, so you don't have to worry about it drying out overnight, as long as you keep it covered.
I received Make It Ahead by Ina Garten for Christmas from my parents. Ina's recipes have almost never failed me. I find that they're straightforward, and one tastes better than the next. Sometimes I find that she's a little heavy-handed with the salt for my taste, but I find that these days I typically cut her suggested amount of salt in half. In this recipe, I didn't, and the bread was delicious. Not salty at all.
In the book, this recipe calls for a specific type of cornmeal: Bob's Red Mill medium-grind cornmeal. I did not stray from the instructions. I found a store in my neighborhood that sold it, and didn't try the recipe until I purchased it. I'm not sure how this recipe would turn out if fine-grind cornmeal were used.
The recipe calls for two 8 1/2-by-4 1/2-by-2-inch loaf pans. I decided to cut the recipe in half and make one loaf in a slightly larger loaf pan, which is why my slices look more rectangular than square. The recipe calls for extra-large eggs. Many of Ina's recipes do. I used large eggs, and they worked fine.
Sour Cream Corn Bread
Recipe from Ina Garten's Make It Ahead Cookbook

1/2 pound (2 sticks) unsalted butter, melted, plus extra to grease the pan
3 cups all-purpose flour
1 cup Bob's Red Mill medium-grind yellow cornmeal
1/2 cup sugar
2 tablespoons baking powder (see note)
1 tablespoon kosher salt
1 1/4 cups whole milk
3/4 cup sour cream
2 extra-large eggs, at room temperature
Salted butter and strawberry jam, for serving

Preheat the oven to 350 degrees. Grease and line the bottom of two 8 1/2-by-4 1/2-by-2-inch loaf pans with parchment paper.

Whisk together the flour, cornmeal, sugar, baking powder, and salt in a large bowl. In a separate bowl, whisk together the milk, sour cream, and eggs and then slowly whisk in the melted butter. Pour the wet ingredients into the dry ones and mix them together with a rubber spatula, until combined. Don't overmix! Pour the batter into the prepared pans, smooth the top, and bake for 35 to 40 minutes, until a toothpick comes out clean. Place the pans on a rack and cool completely.

When ready to serve, slice the corn bread, toast it, and serve with salted butter and strawberry jam.

Note: Check the expiration date of your baking powder to make sure it's still active.

Make It Ahead: Bake the corn breads, cool completely, wrap tightly, and refrigerate for up to 4 days or freeze for up to 3 months. Defrost, if necessary, slice 1/2 inch thick, and toast.

Yield: 2 loaves

One year ago: Easy, Cold Sesame Noodles with Shredded Chicken
Two years ago: Buttermilk Chocolate Chip Muffins
Three years ago: Easy Black Beans and Rice
Four years ago: Jerk Shrimp Mini Pies
Five years ago: Chocolate Pancakes
Six years ago: Baked Shrimp Scampi
Seven years ago: Chicken Piccata

Print This Recipe