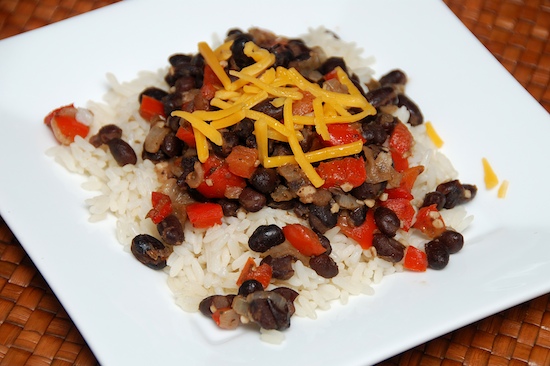 Unfortunately, the picture doesn't do this dish justice.  When you stir up the beans, the rice and the cheese and the cheese starts to melt into the dish, you end up with a wonderful meal.   It's similar to a chili with less sauce, but no less delicious!
My niece Christina sent me this recipe the other day and mentioned that she had made it twice within a week.  She and I have similar taste in food, so I knew it had to be good, and it really is.   My husband liked it so much he asked for it again tonight, so shortly I'm off to the store to buy another red pepper.
We're trying to eat less meat and increase our vegetable consumption around here, and this meal is a perfect way to do it.   It has a ton of flavor from all of the spices.  I hope you like it as much as we do.
Black Beans with Rice and Cheese
Adapted from CookingLight.com

1  tablespoon  olive oil
1 small onion, chopped (between 1/2 and 1 cup)
1 small red bell pepper, chopped
3 garlic cloves, minced
1/2 cup water
1 teaspoon chili powder
1/2 teaspoon salt
1/2 teaspoon ground cumin
1/2 teaspoon dried oregano
1/4 teaspoon ground coriander
1/4 teaspoon ground red pepper (cayenne pepper)
1 (15-ounce) can black beans, rinsed and drained
1 cup hot cooked long-grain rice
~1/4 cup (1 ounce) shredded cheddar cheese

Heat oil in a medium saucepan over medium heat. Add onion and bell pepper; cook 5 minutes or until tender, stirring occasionally. Add garlic; cook 1-2 minutes, stirring to make sure the garlic doesn't burn. Add water and next 7 ingredients (through beans); bring to a boil. Cover, reduce heat, and simmer 10 minutes or until thoroughly heated. Place 1/4 cup rice on each of 4 plates; top with 1/2 cup bean mixture. Sprinkle each serving with 1 tablespoon cheese or to taste.

Yield:  4 servings

Print This Recipe