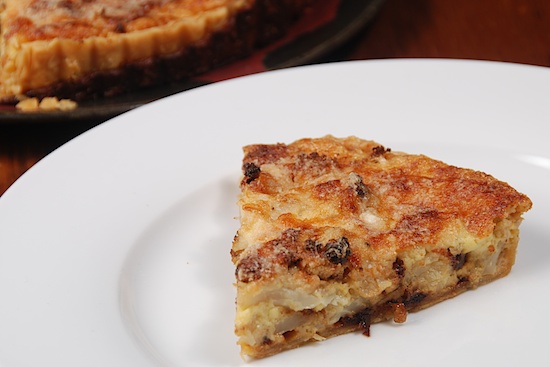 I love cauliflower in the winter, and have made it a number of different ways, but I'm always on the lookout for a new way to serve it.   I made this last night and served it as a side dish with marinated pork tenderloin.  I can honestly say that they were both delicious in their own right, but I shouldn't have served them together.  They didn't go together at all!    When I tried this tart between bites of pork tenderloin, I appreciated its taste but immediately knew that it should be served as the main course with a nice green salad on the side.   It seemed perfect for a brunch. It's incredibly rich, but oh so delicious.
This recipe calls for truffle oil, which isn't something that everyone has in their pantry. I happened to have some that was given to me as a Christmas gift. I don't like mushrooms at all, not that mushrooms are truffles, but in my mind they're in the same category. That said, boy was the truffle oil good on the roasted cauliflower. I used a big head of cauliflower, so I had some left over that didn't fit in the tart. Yum! I can't say that I really tasted the truffle oil when the cauliflower was in the tart, so if you don't have truffle oil, don't worry about it.
This recipe is a bit time consuming, but one of the nice things about it is that you can make the roasted cauliflower and the caramelized onions a day ahead. When I baked the pie crust in the tart pan, I didn't have pie weights, so I covered the crust in aluminum foil and put a bunch of coins on it. They held the crust down perfectly.
Cauliflower and Caramelized Onion Tart
Bon Appetit, March 2007

1 small head of cauliflower (about 1 pound), cored, cut into 1-inch florets
2 1/2 tablespoons olive oil, divided
1 tablespoon truffle oil

1 refrigerated pie crust

1 large onion, halved lengthwise, thinly sliced

1 tablespoon Dijon mustard
2 large eggs
1 (7- to 8-ounce) container mascarpone cheese (Italian cream cheese)
1/2 cup whipping cream
1/4 teaspoon ground white pepper
Pinch of ground nutmeg
1 cup grated Gruyère cheese
3/4 cup grated Parmesan cheese

Position rack in center of oven; preheat to 425°F. Toss cauliflower with 1-2 tablespoons olive oil in large bowl. Spread on large rimmed baking sheet, spacing apart. Sprinkle with salt and pepper. Roast 15 minutes; turn florets over. Continue roasting until tender, about 25 minutes longer. Cool cauliflower, then thinly slice. Drizzle with truffle oil; toss. Reduce oven temperature to 350°F.

Press pie crust onto bottom and up sides of 9-inch-diameter tart pan with removable bottom. Line pie crust with foil; fill with pie weights. Bake crust 20 minutes. Remove foil and pie weights; bake until crust is golden, about 5 minutes, pressing crust with back of fork if bubbles form. Cool crust. Maintain oven temperature.

Heat remaining 1 1/2 tablespoons olive oil in heavy large skillet over medium heat. Add onion; sprinkle with salt and pepper. Cook until onion is deep golden brown, stirring occasionally, about 40 minutes. Cool slightly. DO AHEAD Can be made 1 day ahead. Store crust at room temperature. Cover and chill cauliflower and onion separately.

Brush bottom and sides of crust with mustard. Spread onion in crust. Arrange cauliflower evenly over. Set tart on rimmed baking sheet. Whisk eggs and next 4 ingredients in medium bowl. Stir in Gruyère. Pour mixture over filling in tart pan; sprinkle with Parmesan. Bake until tart is golden and center is set, about 40 minutes. If you want your tart to be slightly lighter in color, you can add the parmesan 20 minutes into the baking time. When done, transfer to rack; cool 15 minutes before serving.

Yield: 8 servings

Print This Recipe