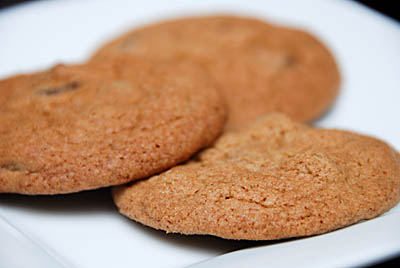 I don't know what made me do it, but a number of years ago I decided to dump some cinnamon into my chocolate chip cookie batter. And it was delicious. I've been doing it ever since. I don't think I've made chocolate chip cookies without cinnamon in about 10 years now and based on the rave-reviews I get I'm not planning to stop any time soon.
I make cookies all the time – for family, for friends, for bake sales. It's easy for me to find an excuse to make cookies and I really enjoy making them. I usually have all of the ingredients on hand, and with my stand mixer, making the batter is a cinch. And with my ice cream scoop, putting them on the cookie sheets to bake is quick and simple as well. The boys love to have a warm chocolate chip cookie right out of the oven. They're a mess when they finish the cookie because the melted chocolate inevitably gets all over their hands and faces, but their smiles make the clean-up worth it.
My cinnamon chocolate chip cookie recipe uses a little more than a cup of whole wheat flour, which makes the cookies slightly darker in color than traditional chocolate chip cookies. I have made them entirely with whole wheat flour, and they're good that way as well and they're a tiny bit healthier. As healthy as cookies can get I suppose, other than Breakfast Cookies which are very healthy.
If you're a chocolate chip cookie fan, I suggest that you try to make them with cinnamon. They're a nice change.
Cinnamon Chocolate Chip Cookies

1 1/4 cups whole wheat flour
1 cup all-purpose flour
1 teaspoon baking soda
1 teaspoon salt
1 1/2 teaspoons of cinnamon
1 cup (2 sticks) butter, softened
3/4 cup granulated sugar
3/4 cup packed brown sugar
2 teaspoons vanilla extract
2 large eggs
2 cups semi-sweet chocolate chips

Preheat oven to 375° F. Combine flour, baking soda, cinnamon and salt in small bowl. Beat butter, granulated sugar, brown sugar and vanilla extract in large mixer bowl until creamy. Add eggs, one at a time, beating well after each addition. Gradually beat in flour mixture. Stir in chocolate chips. Use an ice-cream scoop to drop cookies onto ungreased baking sheets. Alternatively, drop by rounded tablespoon onto baking sheets.

Bake the cookies for 9 to 11 minutes or until golden brown. Let the cookies cool on the baking sheets for two minutes then transfer them to a wire rack to finish cooling. I always cover my wire rack with wax paper to prevent crumbs from dropping onto my counters.