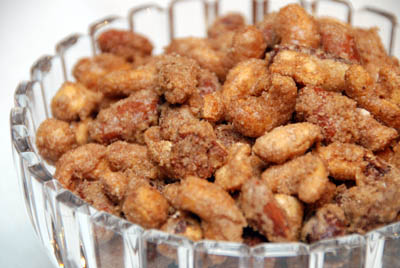 So far I have posted three recipes and I'm noticing a trend here. They're all sweet. I admit it, I do have a sweet tooth, as do the boys and my husband, but after this recipe I'm going to post something savory. I promise.
Across the street from our apartment, there's a man who sells sugared nuts from a little cart outside the Barnes & Noble. They always smell so delicious. I've tried them a couple of times and they're pretty good, but in my opinion not excellent. Because the boys are always begging for a bag of the nuts when we walk by the cart, I decided to find my own recipe. I tried a couple and this is my favorite. It can be just sweet or sweet and spicy. The boys prefer it just sweet.
Last night we had an impromptu dinner party with some friends and I had a tray of these just out of the oven. Our friend Jay couldn't stop eating them directly from the hot cookie sheet. He said they were so good he could easily eat the whole tray!
Sugared Spiced Nuts
Adapted from Gourmet, September 1999

1 large egg white
1 teaspoon water
4 cups mixed salted roasted nuts (about 1 1/4 lb.)
1 cup sugar
1 1/2 tablespoons cinnamon
1/8 teaspoon freshly ground nutmeg or to taste
3/4 teaspoon cayenne pepper*
OR instead of the three spices listed above, you can use 1 1/2 tablespoons of pumpkin pie spice
Preheat oven to 250°F.

Whisk together egg white and water in a large bowl until frothy. Stir in nuts.

Stir together sugar, cinnamon, nutmeg and cayenne pepper and stir into nuts, coating well.

Spread nuts on a lightly buttered large shallow pan and bake in middle of oven until dry, about 50 minutes. Half-way through the baking stir the nuts.

Cool and serve. Store at room temperature in an air-tight container.

Yield: 4 cups

*I leave this out when I'm making the recipe for the boys. They prefer it just sweet.