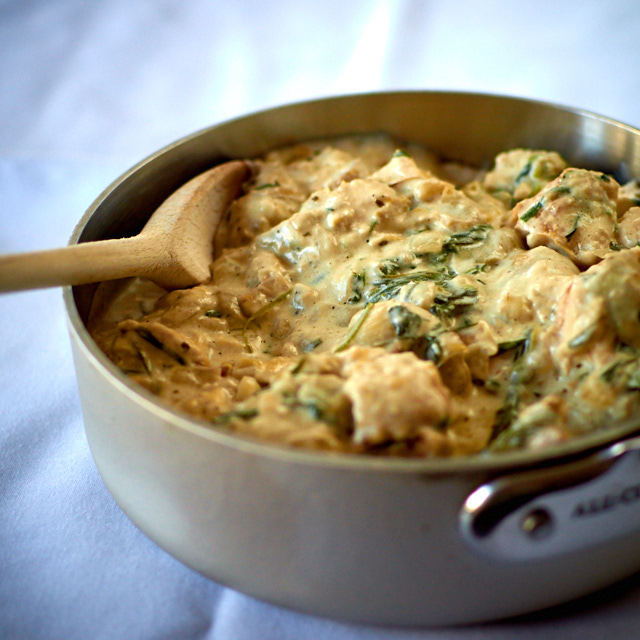 My husband said that this is one of the best chicken dishes he has EVER eaten! How's that for an endorsement?
For me, this dish is reminiscent of the birthday meal that I chose year after year as I was growing up, Chicken Divan. for decades, it was my favorite, until I switched to my mom's Eggplant Parm, and then her Cashew Chicken, which I still ask for today. This dish and Chicken Divan are not exactly the same, but both have a flavorful, creamy sauce over chicken and vegetables. Next time I make this, I will double the spinach and maybe even add a few more artichokes. I like dishes that are heavy on vegetables.
This is comfort food at its best. Serve it over rice or noodles. Leftovers are great too.
Creamy Spinach and Artichoke Chicken Skillet
Recipe from FoodNetwork.com

1/4 cup all-purpose flour
Kosher salt and freshly ground black pepper
Four 6-ounce boneless, skinless chicken breasts
4 tablespoons vegetable oil
1 onion, chopped
3 cloves garlic, minced
4 ounces cream cheese, cut into chunks
1 cup half-and-half
One 5-ounce package baby spinach (about 4 cups)
One 14-ounce jar marinated artichoke hearts, drained and quartered
Steamed rice, for serving

Whisk together the flour, 1 tablespoon salt and a few grinds of pepper in a pie plate or shallow dish. Coat both sides of the chicken breasts in the seasoned flour. Shake off any excess and set aside.

Heat 3 tablespoons of oil in a large, heavy-bottomed skillet over medium-high heat. Add the chicken and cook, undisturbed, until deeply golden, about 4 minutes. Turn and cook the second side. Remove the chicken to a plate. Add the remaining tablespoon oil to the skillet. Add the onion and cook, stirring occasionally, until it begins to soften, about 5 minutes. Add the garlic and cook, stirring, until fragrant, about 30 seconds. Add the cream cheese and stir until melted. Pour in the half-and-half and use a wooden spoon to scrape up any brown bits from the bottom of the skillet. Season with salt and pepper. Add the chicken back to the skillet, reduce the heat to medium, cover and cook, turning about halfway through, until an instant-read thermometer inserted into the thickest part of the chicken reaches 165 degrees F, 12 to 14 minutes.

Transfer the chicken to a serving platter. At this point, you can leave the chicken breasts whole or cut them into chunks (I like mine cut into chunks.) Add the spinach to the sauce in the skillet, cover and cook until wilted, about 5 minutes. Stir in the artichoke hearts and cook until heated through, about 1 minute. Season with salt and pepper. Pour the creamy sauce over the chicken. Serve with steamed rice.

Yield: 4 servings

One year ago: Cocoa Buttermilk Breakfast Biscuits with Brown Sugar Cinnamon Butter
Two years ago: Tomato, Melted Leek and Feta Galette
Three years ago: Summer Squash Casserole
Four years ago: Homemade Ice Cream Sandwiches
Five years ago: Chickpea Vegetable Stew
Six years ago: Apple Chips
Seven years ago: Oatmeal Cookies with Tart Cherries and White Chocolate
Eight years ago: Smoked Chili Scalloped Sweet Potatoes
Nine years ago: Billy's Vanilla, Vanilla Cupcakes
Ten years ago: Frosted Pumpkin Muffins

Print This Recipe