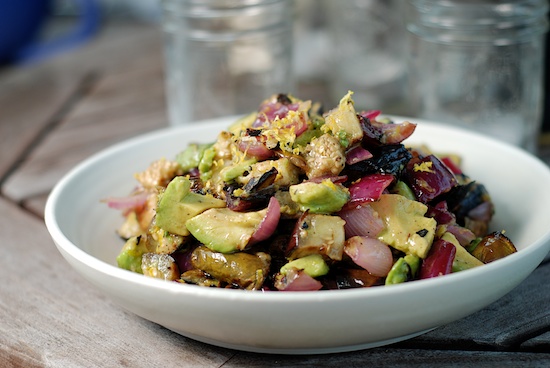 I made this salad with some fresh eggplant from the CSA. It isn't the prettiest salad to look at, but boy is it delicious. I love the combination of flavors. It's a perfect summertime salad because it's delicious, fresh and very easy to make.
Instead of brushing the vegetables with oil, I sprayed them with canola oil. It worked perfectly.
I won't be doing much outdoor cooking this weekend because at the moment, Hurricane Irene is headed right for us. Let's hope she's gentle once she gets here.
Grilled Eggplant Salad
Recipe by Bobby Flay as seen on FoodNetwork.com

1 Italian eggplant, cut into 1-inch thick slices
1 large red onion, cut into rounds
Canola oil
1 avocado, halved, pitted and flesh chopped
1 tablespoon red wine vinegar
1 teaspoon Dijon Mustard
1 tablespoon coarsely chopped oregano leaves
Honey (~ 1 teaspoon, or to taste)
Olive oil (~ 3 Tablespoons, or to taste)
Salt and freshly ground black pepper
1 lemon, zested
Parsley sprigs, for garnish

Brush the eggplant and red onions with canola oil and arrange on the grill. Cook the eggplant until soft and grill the onions until they have a slight char. Remove from the grill to a cutting board and let cool slightly. Once cool, roughly chop and add them to a serving bowl along with the avocado.

In a small bowl, whisk together the red wine vinegar, the Dijon, and oregano. Add honey and olive oil, to taste, and blend until emulsified. Season with salt and pepper, to taste.

Add the dressing to the eggplant mixture and toss. Garnish with lemon zest and parsley sprigs and serve.

Yield: 6 servings