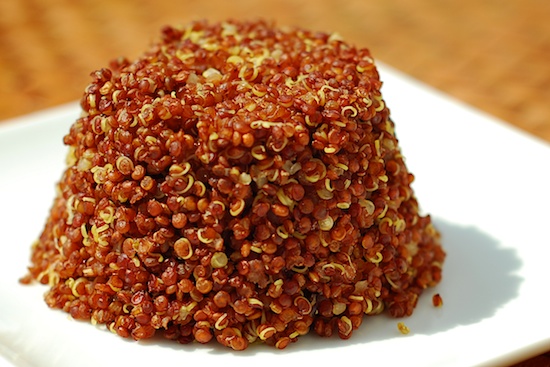 I had some left over red quinoa that I wanted to use up, so I tried this recipe.   Despite the fact that there are only a few ingredients, I thought the quinoa was quite flavorful.   I loved the hint of lemon flavor that the zest/juice provided.
I have made this recipe with regular quinoa as well as red quinoa.  Both are tasty.   Next time,  I will cook the quinoa in chicken broth for a little added flavor as I have done in the past.
The original recipe calls for cooking the quinoa for 15 minutes, then steaming it for an additional 10.   I skipped the steaming part and the result was still fluffy and delicious.
Lemon-Scented Quinoa
Adapted from recipe at epicurious.com

1 cup quinoa
1 1/2 tablespoons olive oil
1 teaspoon grated lemon zest
2 teaspoons fresh lemon juice
salt
Wash quinoa in 3 changes of cold water in a bowl, draining in a sieve each time.

Cook quinoa in a medium pot of boiling salted water (1 tablespoon salt for 2 quarts water), uncovered, until  tender, about 20 minutes. Drain in sieve.  Transfer quinoa to a bowl and fluff with a fork.   Stir in oil, zest, lemon juice, and 1/4 teaspoon salt. Serve warm.

Yield:  4 servings as a side dish


Print This Recipe