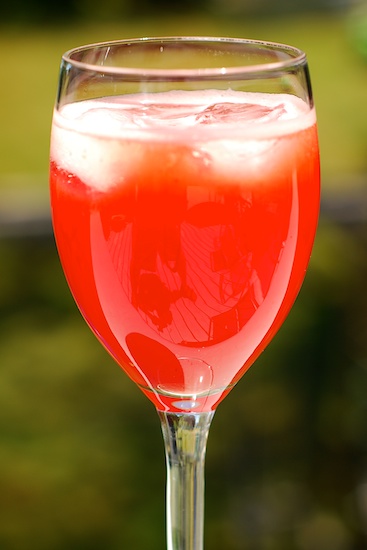 In my eternal quest to get my boys to eat/drink healthy things, I found this recipe for strawberry lemonade made without adding sugar to it.   I typically cook with sugar.  I never use artificial sweeteners.   This is one of the first recipes I've tried that calls for agave nectar.   I've had a bottle of agave nectar for about a year now, and I haven't touched it.   It's time!
I was surprised by how much I liked this drink.   I always thought I disliked agave nectar, but this drink definitely changed my mind.   The boys inhaled the lemonade.   Actually I should say that three out of four boys inhaled it.   One of my sons rejected it because he found a strawberry seed in it.   The second it hit his lips, the drink was rejected.    Do you think he'll ever get over his aversion to fruits and vegetables?   It's killing me!
Next, I'm going to try to make lemonade with agave nectar.   I hope it's good because my boys LOVE lemonade, but I only make it as a treat during the summer because it has so much sugar in it.   I'll let you know how it goes.
Strawberry Lemonade with Agave Nectar
Recipe from weelicious.com

1 cup chopped fresh strawberries, stemmed and washed
1/2 cup fresh-squeezed lemon juice
1/4 cup agave nectar
2 cups water
Ice for serving

Puree strawberries and agave nectar in a blender or food processor until smooth and transfer to a pitcher.  Pour the water, agave nectar and lemon juice in the pitcher and stir to combine.

Chill and serve over ice.

Yield:  4 servings

Print This Recipe