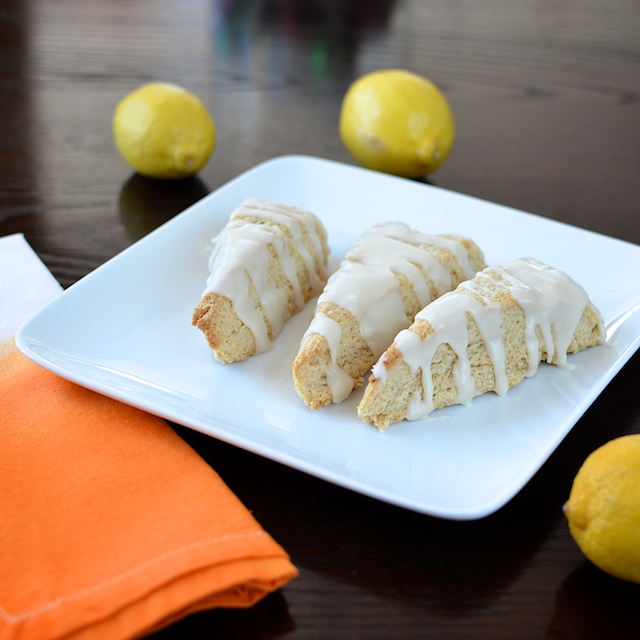 Made these for breakfast yesterday and three out of four boys loved them. One claims he doesn't like lemon-flavored things. These scones were delicious. Very tender and soft, and full of lemon flavor. The boys didn't eat them all yesterday – they wanted to, but I wouldn't let them – so they each had a scone for breakfast this morning. I kept the scones covered overnight and they were still nice and moist this morning.
The original glaze recipe made way too much glaze for me, so I cut it in half in the recipe below. If you like LOTS of frosting, double the glaze ingredients below. The original recipe also called for 3 cups of all-purpose flour. I used half white flour and half white whole-wheat flour. The results were delicious.
These would be a perfect addition to a brunch spread.
Lemon Scones
Recipe from AllRecipes.com

1 1/2 cups all-purpose flour
1 1/2 cups white whole-wheat flower
1/3 cup white sugar
1 1/2 teaspoons baking powder
1 1/2 teaspoons baking soda
1/3 teaspoon salt
3/4 cup cold butter, cut into pieces
9 tablespoons milk
3 tablespoons lemon juice
2 1/2 teaspoons lemon zest
1 1/2 teaspoons vinegar
1 cup confectioners' sugar
1/6 cup butter, melted
1 1/4 tablespoons lemon juice
1/4 teaspoon vanilla extract
1 tablespoons water, or as needed

Preheat oven to 350 degrees F.

Mix flour, white sugar, baking powder, baking soda, and salt in a bowl. Cut in cold butter with a pastry blender until mixture resembles coarse crumbs. Whisk milk, 3 tablespoons lemon juice, lemon zest, and vinegar in a small bowl and stir into flour mixture until moistened; turn out onto a lightly floured surface.

Knead dough briefly for 5 or 6 turns. Pat or roll dough out into a 1 inch-thick round. Cut into 10 wedges and arrange on a baking sheet leaving 1 inch between each wedge.

Bake in preheated oven until bottom edges are lightly tan, 11 to 14 minutes. Allow scones to cool for 15 minutes.

While scones are cooling, stir confectioners' sugar, melted butter, 2 1/2 tablespoon lemon juice, and vanilla extract in a bowl until smooth. Stir water into sugar mixture if needed, 1/2 tablespoon at a time, until mixture is easily drizzled.

Drizzle glaze over warm scones.

One year ago: Nutella Chocolate Cookies
Two years ago: Holiday Biscotti
Three years ago: Individual Beef Wellingtons with Mushroom, Spinach and Blue Cheese Filling
Four years ago: Quinoa Pilaf with Pine Nuts
Five years ago: The Ultimate Quiche

Print This Recipe