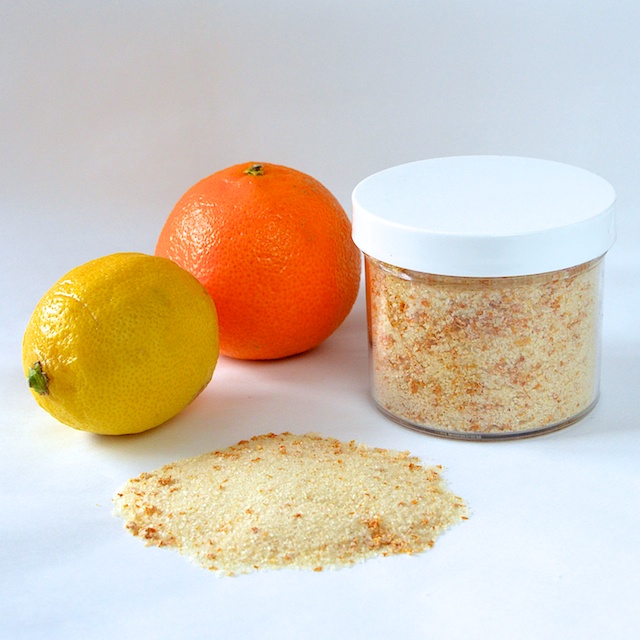 I intended to make a bunch of this seasoning salt to give as Christmas gifts this year. Didn't quite get around to it, but I finally had a chance to make it the other day. This salt is delicious on green vegetables and it's also delicious on poultry. I imagine it will be wonderful on seafood as well. The other night I had some green peas with a little bit of butter and a sprinkling of this seasoning salt. They were so good I would have been happy eating just peas for dinner. I had two big servings.
If you use a sea salt like Malden that has big flakes, you might want to give the finished salt a spin through the food processor to make the salt crystals more uniform in size. I bought my sea salt from Trader Joe's and all of the crystals the same size so I didn't have to further process mine.
If you're a margarita drinker, this salt will be excellent on the rim of the glass. I might try some of this salt on the next batch of homemade tortilla chips that I make.
Citrus Seasoning Salt
Recipe adapted from 101 Cookbooks

1 cup sea salt
1 Tablespoon orange zest
1 Tablespoon lemon zest

Preheat your oven to oven 225 degrees F. Line a rimmed baking sheet with parchment paper.

Combine the salt and citrus in a medium bowl and mix well. Really work the zest into the salt with the back of a spoon or with your fingers. you don't want any big clumps of zest., making sure there aren't any clumps of zest. Spread the mixture across the parchment lined baking sheet.

Bake for 70 – 90 minutes, or until the citrus is completely dried out. The zest should crumble when rubbed between your fingers. Remove from oven and allow to cool.

Yield: 1 cup of seasoning salt

One year ago: Chocolate Peppermint Blossoms
Two years ago: Spinach Salad with Chicken and Apples
Three years ago: Chicken Stew
Four years ago: Jacques' Chocolate Mudslide Cookies
Five years ago: Whole Wheat Cinnamon Oatmeal Chocolate Chip Cookies

Print This Recipe