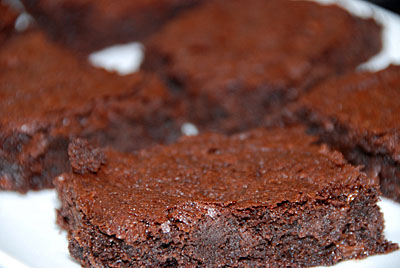 These brownies are absolutely sinful. They're a very quick and easy dinner party dessert that inevitably impresses everyone. They're extremely chocolaty and very rich. With a scoop of vanilla ice cream and a dusting of cinnamon, you have a $12 dessert (by NYC standards). Well maybe it's worth $12 if you add a sprig of fresh mint!
The coffee in this recipe really brings out the chocolate flavor.  One of the things I really like about this recipe is that it makes a LOT of brownies. It makes a jelly-roll pan full of them. They're great for serving to a crowd. The recipe makes enough to serve for dessert, and to send home in a doggie bag with your guests. They'll thank you the next day.
When I took the picture of the brownies above, they had recently come out of the oven. I didn't chill them before I cut them so the edges were raggedy. If you give the brownies time to cool, then refrigerate them before you cut them, yours will look much neater than mine. Happy baking!
Outrageous Brownies
Adapted from The Barefoot Contessa Cookbook by Ina Garten

1 pound unsalted butter
1 pound plus 12 ounces semisweet chocolate chips, divided
6 ounces unsweetened chocolate
6 extra-large eggs
2 tablespoons instant coffee powder
2 tablespoons real vanilla extract
2 1/4 cups sugar
1 1/4 cups flour, divided- 1 cup for batter and 1/4 cup in the chips and nuts
1 tablespoon baking powder
1 teaspoon kosher salt
3 cups diced walnut pieces (optional)


Preheat oven to 350 degrees F. Grease and flour a 13 by 18 by 1 1/2-inch sheet pan.Melt together the butter, 1 pound chocolate chips, and unsweetened chocolate on top of a double boiler. Cool slightly. Stir together the eggs, instant coffee, vanilla and sugar. Stir in the warm chocolate mixture and cool to room temperature.

Stir together 1 cup of the flour, baking powder and salt. Add to cooled chocolate mixture. Toss the walnuts (if using) and chocolate chips with 1/4 cup flour to coat. Then add to the chocolate batter. Pour into prepared pan.

Bake for about 30 minutes, or until tester just comes out clean. Halfway through the baking, rap the pan against the oven shelf to allow air to escape from between the pan and the brownie dough. Do not overbake! Cool thoroughly, refrigerate well and cut into squares.