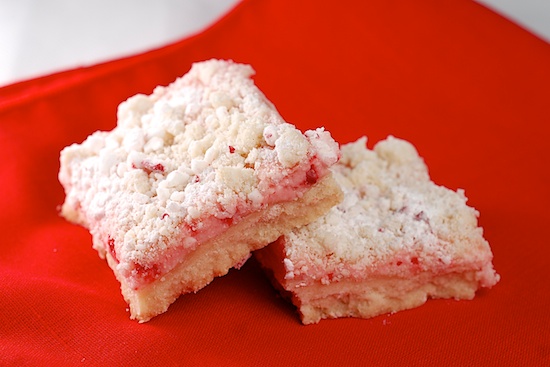 I made these just before Christmas for the boys and they LOVED them. I have one son who doesn't like cheese at all, and he can usually sense cheese in anything. Not these. He was so focused on the mint flavor, which he loves, that he totally missed the cream cheese.
You need to find soft peppermint candies for this recipe. I don't recommend crushing candy canes. I don't think they'll do well in the cheese mixture. I found a bag of soft peppermint candies at Duane Reade, our local drug store. They looked just like these.
I found that these bars are best served chilled. My top layer was a bit soft at room temperature, but slightly firmer when chilled.

Peppermint Cream Squares
Recipe from thekitchn.com

For the shortbread:
1 cup unsalted butter, softened
1/2 cup powdered sugar
1/2 teaspoon salt
2 cups all-purpose flour

For the peppermint filling:
30 soft mint candies
1 cup powdered sugar, divided
1/4 cup cream cheese
2 tablespoons whole milk
Peppermint extract (optional)

Heat the oven to 350°F. Line an 8×8 baking dish with parchment paper so that the ends hang over the sides of the pan. Coat the parchment and exposed sides of the pan with nonstick spray.

To make the shortbread, cream the butter and sugar until they are light and fluffy. With the mixer on low speed, beat in the flour and the salt until the dough comes together and no more dry flour is visible.

Scoop out about 1/2 cup of the dough, transfer it to a covered container, and refrigerate. Scrape the remaining dough into the baking dish. Press the dough flat with buttered hands, pushing the dough into the corners and smoothing the top. Bake for 20-25 minutes, until the shortbread is turning golden around the edges. Remove from the oven and cool for 10 minutes.

While the shortbread is baking, prepare the filling. Place the soft mint candies the bowl of a food processor and pulse until they have broken down into powder with pieces no larger than rock salt. Alternatively, place the candies in a sturdy plastic bag, go outside, and smash the candies with a hammer. (A fantastic holiday stress-reliever.)

Mix the powdered candies with 1/2 cup of the powdered sugar and set aside. In a separate bowl, whisk together the cream cheese and milk. Warm briefly in the microwave if the cream cheese is too stiff. Add the remaining 1/2 cup of powdered sugar and 3/4 cup of the powdered candy mixture to the cream cheese. Whisk to form a thick paste. Taste and add peppermint extract in 1/4 teaspoon increments if you'd like a stronger peppermint flavor.

When the shortbread has cooled but is still warm to the touch, pour the peppermint cream mixture over the top and spread it evenly into the corners. Remove the reserved shortbread dough from the fridge and crumble it evenly over the top of the peppermint cream (or grate it on the large holes of a cheese grater).

Bake the peppermint bars for another 10-13 minutes, until the edges are just starting to bubble. The crumbs will still be fairly light-colored. Let the bars cool in the pan for 15 minutes and then sprinkle the top with a few tablespoons of the remaining peppermint powder (you may not use it all) while the bars are still warm. Let the bars cool completely, then lift them from the pan and cut into squares. Keep in the refrigerator. Serve chilled.

Yield: 16 two-inch squares
One year ago:   Pork Tenderloin with Balsamic-Cranberry Sauce
Two years ago:   Clementine Vanilla-Bean Quick Bread
Three years ago:   Peanut Butter and Jam Jewels
Four years ago:   Lemon Bars


Print This Recipe