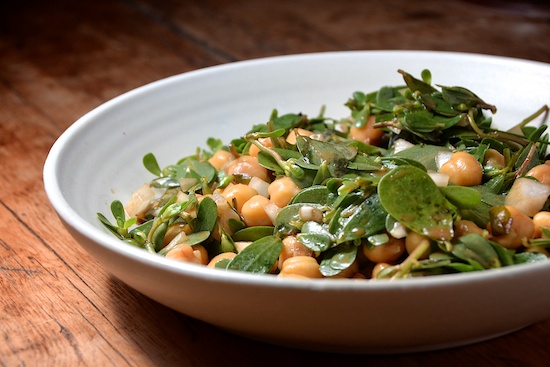 OK, this should be my final purslane post for the summer. Even if my CSA continues to distribute it, I'll make this salad again or one of other two recipes that I recently posted.
This salad has a surprising amount of flavor. I ate several servings and enjoyed every bite.
This salad takes a little time to make, the most time consuming part being the purslane leaf removal. The stems are edible, but I prefer the leaves by themselves. It takes a while to pluck them off the stems, as they're fairly small leaves.
The recipe calls for two cans of beans. If you prefer fewer beans, you can use a single can. I love garbanzos, so two cans worked for me.   I've eaten more purslane this summer than ever before in my life but I don't mind because it's delicious.
Purslane Bean Salad
Recipe modified slightly from Spatulatta.com

2 cups of purslane leaves – washed and dried
2 15oz. cans of garbanzo beans
1 small onion – minced (I like sweet onions)
2 tablespoons of olive oil
2 tablespoons of balsamic vinegar
1 tablespoon of dijon mustard
1 tablespoon of honey
1/4 cup of parsley – finely minced

Make the dressing by whisking together the oil, vinegar, mustard and honey. Once mixed, add the parsley.

Mix the beans, purslane and onion in a large salad bowl. Toss with the salad dressing. Refrigerate for 30 minutes before serving.

Yield: 6 servings

Print This Recipe