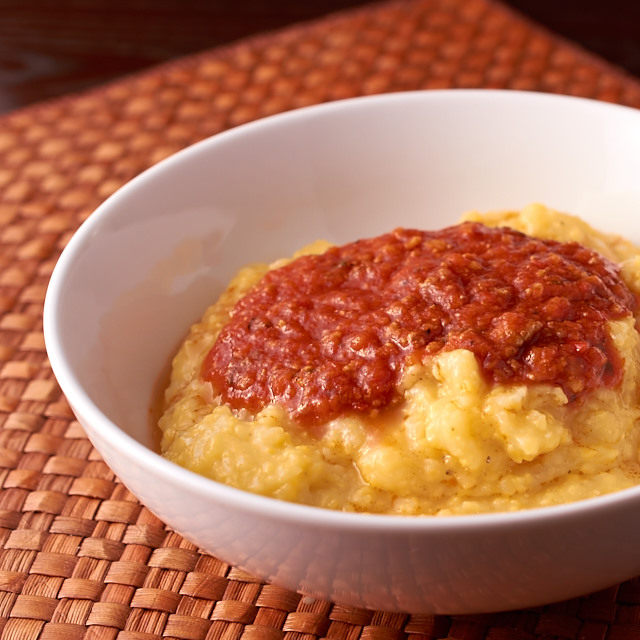 I had some extra medium-grind corn meal sitting in my cabinet and I didn't feel like making another loaf of cornbread, so I decided to try polenta. I had some meat sauce on hand which served as a perfect topping.
Before trying this recipe, I had only ever cooked this sweet corn polenta, made from fresh corn. It's one of my favorite summer recipes. Once, a long time ago, I purchased polenta in a tube and cooked it. I didn't like it at all and consequently thought I didn't like polenta. As with many dishes, a homemade version can be quite different from a pre-packaged store-bought version. Knowing this, I decided to give this recipe a try.
There are a couple of ways that you can prepare this polenta. If you're organized, you can soak the cornmeal overnight, cutting your preparation time almost in half. If you're not that organized (and I'm certainly not), you'll have to cook the polenta for a little longer. This is a dish similar to risotto, in that you should plan to be in the kitchen while it's cooking because it needs to be stirred periodically.
I have made this several times and each time I chose to use water as the cooking liquid. The recipe suggests water, milk or stock. Milk will make the resulting polenta creamier and a bit heavier. Using stock will be similar to using water, but will add a bit more flavor. I let the flavor in my dinner come from the meat sauce that I used to top the polenta. In addition to the sauce, you can also top the polenta with grated cheese, like Parmesan.
I thought this was a delicious dinner. I was hoping the boys might think so too, at least the plain polenta. No luck. Next time, I think I'll make the polenta, press it into a baking dish and chill it overnight. Once it sets, I'll try to cut it into squares and pan fry it. Maybe they'll like that. Fingers crossed.
Smooth and Creamy Polenta
Recipe from Serious Eats

5 cups water, milk, or stock (chicken or vegetable)
1 cup medium or coarse cornmeal
Kosher salt
2 tablespoons unsalted butter or extra-virgin olive oil

If using the pre-soaking method, which requires advance planning but cuts cooking time roughly in half, combine water with cornmeal in a large mixing bowl and let stand, covered, at room temperature overnight. When ready to cook, scrape soaked cornmeal and water into a large saucier or saucepan and set over high heat. If using the standard method, add water to a 3-quart saucier or saucepan and set over high heat. Sprinkle in cornmeal while whisking (water does not have to be boiling).

In either case, pre-soaking method or not, bring the mixture to a boil, stirring frequently. Let boil, stirring frequently, until polenta thickens enough that it starts to spit. Lower heat immediately to prevent spitting and continue to cook, stirring frequently with a spoon or silicone spatula and scraping bottom to prevent scorching, until polenta becomes thick and pulls away from side of saucepan, about 30 minutes for pre-soaked cornmeal and 50 minutes for dry cornmeal. Season with salt.

Stir in butter or olive oil using either a spoon, silicon spatula, or whisk. If polenta forms lumps, beat vigorously with a stiff whisk to remove. If polenta becomes too firm or begins to set, add a small amount of water, stock, or milk, and beat in with a whisk until fully incorporate and no lumps remain.

Serve right away with accompaniment of your choice, or scrape into a vessel and chill until set, then cut into pieces for grilling, searing, or frying.

Yield: ~ 3 – 4 servings

One year ago: Spring Root Vegetable Casserole
Two years ago: Gail's Rolled Sugar Cookies with Piped Icing
Three years ago: Avocado Mango Salad
Four years ago: Caramels
Five years ago: Chocolate Chip Biscotti
Six years ago: Peanut Butter Cup Bars
Seven years ago: Butterscotch Blondies
Eight years ago: Crispy Salted Oatmeal White Chocolate Cookies

Print This Recipe