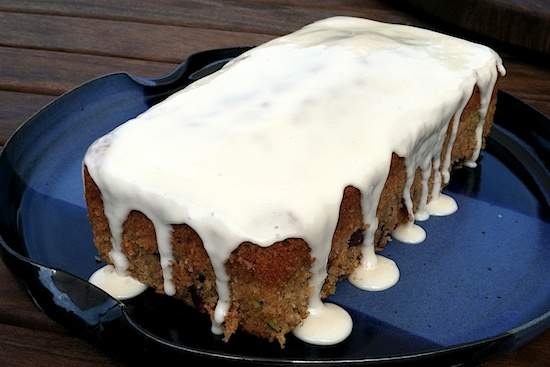 I have been receiving a LOT of squash from my CSA, so you're going to see quite a few new squash recipes in the upcoming days.
I can honestly say that this is the best zucchini bread that I have ever had. It's incredibly moist and flavorful. I almost made it with chocolate chips instead of the cranberries because in general, the boys don't like fruit in things, but I knew they wouldn't be thrilled with seeing tiny bits of green in the bread, so I didn't cater to them this time and I'm glad I didn't. The bread is delicious with cranberries. Despite how delicious it was and looked, the boys had no interest in trying it. I didn't force them because I didn't want to waste a single morsel.
The recipe below gives you a couple of options: butter or oil – I used butter; plain yogurt or sour cream – I used sour cream; and the optional addition of orange zest. I didn't have an orange on hand, so I skipped it. I bet it would be a nice addition though. The glaze calls for a vanilla bean. I didn't have one, so I used vanilla extract – still a delicious glaze. One additional change. I didn't have unsalted butter, so I used regular salted butter. In some recipes when I substitute salted butter for unsalted, I decrease the amount of salt that I add to a recipe, but in this case I didn't and the bread was still delicious. No noticeable salty taste.
I'll definitely make this again this summer as the zucchini keeps coming from the CSA.
Zucchini Bread With Dried Cranberries and Vanilla Glaze
Recipe from Food Network Kitchens

1 stick unsalted butter, melted and cooled (or 1/2 cup vegetable oil), plus more for the pan
1 1/4 cups all-purpose flour
3/4 cup granulated sugar
1 teaspoon baking powder
1 teaspoon salt
1/2 teaspoon baking soda
1/2 teaspoon ground cinnamon
1/2 teaspoon grated nutmeg
1 cup dried cranberries
2 large eggs
1/2 cup plain yogurt or sour cream
1 teaspoon vanilla extract
1 teaspoon grated orange zest (optional)
1 cup shredded zucchini, squeezed dry

Glaze:
1 cup confectioners' sugar
1 tablespoon milk
1 vanilla bean, split lengthwise and seeds scraped or 3/4 teaspoon vanilla extract

Make the zucchini bread: Preheat the oven to 350 degrees F. Lightly butter one 9-by-5-inch loaf pan or three 6-by-3-inch mini pans.

Whisk the flour, granulated sugar, baking powder, salt, baking soda, cinnamon and nutmeg in a large bowl. Add the dried cranberries.

Whisk the eggs, melted butter, sour cream (or yogurt), vanilla and orange zest (if using) in a medium bowl. Stir in the shredded zucchini. Fold the zucchini mixture into the flour mixture until just combined.

Spread the batter in the prepared pan(s). Bake until a toothpick inserted into the center comes out clean, about 50 minutes for a standard loaf or 35 to 40 minutes for mini loaves. Cool 30 minutes in the pan(s) on a rack, then turn out onto the rack to cool completely.

Make the glaze: Whisk the confectioners' sugar, milk and vanilla seeds or extract in a bowl. Pour over the cooled zucchini bread and let set, 15 to 20 minutes.

Yield: 1 loaf

Print This Recipe