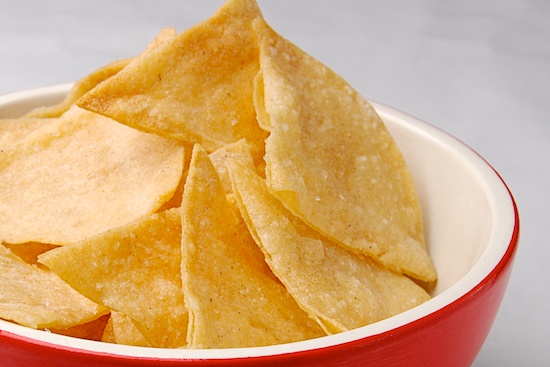 One of my sons loves cheese quesadillas made with flour tortillas.   When I mistakenly purchased corn tortillas the first quesadilla I made was promptly rejected.   "These don't taste the same!"    With four boys, I hear that at least once a day.    Not wanting to throw the remaining tortillas away and not wanting to eat them either, I searched for something to do with them and found this recipe.
When these came out of the oven, the boys couldn't eat them fast enough.   They scarfed them down and immediately asked me to make another batch, which I did.   They weren't happy that I told them that I needed a picture of the second batch before they could eat the chips.   They were drooling over the bowl as it was being photographed.  These are really terrific served warm straight from the oven.
These take no time at all to make, and they're a great afternoon snack for the kids.   Next time I might experiment with a little lime juice or chili powder.  Because we ate them all so quickly, I can't comment on how long they will stay fresh.   I'll try to save a couple the next time I make them just to see.
Baked Tortilla Chips
From the Food Network Kitchen

Twelve 6-inch corn tortillas (preferably white)
1 tablespoon vegetable or canola oil
Fine salt

Preheat the oven to 350 degrees F.

Brush both sides of the tortillas with the oil. Stack the tortillas and cut the pile into sixths to make chips. Spread the chips out in a single layer on two large baking sheets and season with salt. Bake until golden brown and crisp, rotating the baking sheets once, about 12 to 15 minutes. Serve.

Yield:  ~3 – 4 servings

Print This Recipe