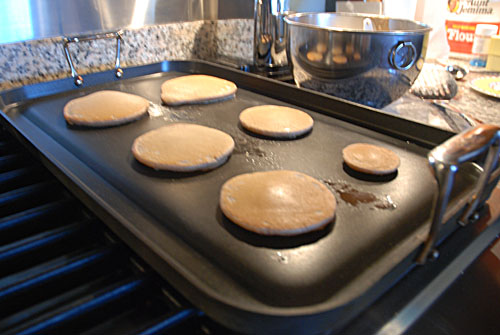 My boys LOVE pancakes in the morning so I often make buttermilk pancakes. I make them with whole wheat flour so they're slightly more healthy than standard pancakes. If you try this recipe and you're not a whole wheat fan, try half white flour and half whole wheat, or if you really don't like whole wheat flour, use all white. I actually slightly prefer these pancakes with all white flour, but I prefer that our boys eat the whole wheat flour, and they don't seem to know the difference, so whole wheat it is for us.
I don't like to make the same thing over and over for breakfast. I like to mix it up.  One day last week the boys asked for pancakes for breakfast again so I decided to look for another recipe. They love cinnamon, so I googled "cinnamon pancakes" and found this recipe on a blog called sugarlaws. It turned out to be delicious, and the boys now request these pancakes. As a matter of fact they requested cinnamon pancakes this morning.
If we ever have leftover pancakes, I wrap them up and put them in the refrigerator so the boys can have them as a snack later in the day. These pancakes are actually pretty good cold, right out of the fridge.
Cinnamon Pancakes
from Sugarlaws

1 cup whole milk
1 cup plus 2 tbsp all-purpose flour
2 tsp baking powder
1/4 tsp salt
2 tsp ground cinnamon
2 tbsp sugar
1 egg
1 tbsp butter, melted

1. Combine all the ingredients in a large mixing bowl. Beat until smooth.
2. Heat a frying pan or skillet on the stovetop. Spray with cooking spray or grease with a little extra butter. Ladle out 1/4 cup of pancake batter at a time, and cook about 1 min on each side, flipping each pancake midway through. Repeat about eight times, until batter is gone.
5. Serve with maple syrup, honey or extra butter. Enjoy!

Yield: ~6 large pancakes.

Print This Recipe