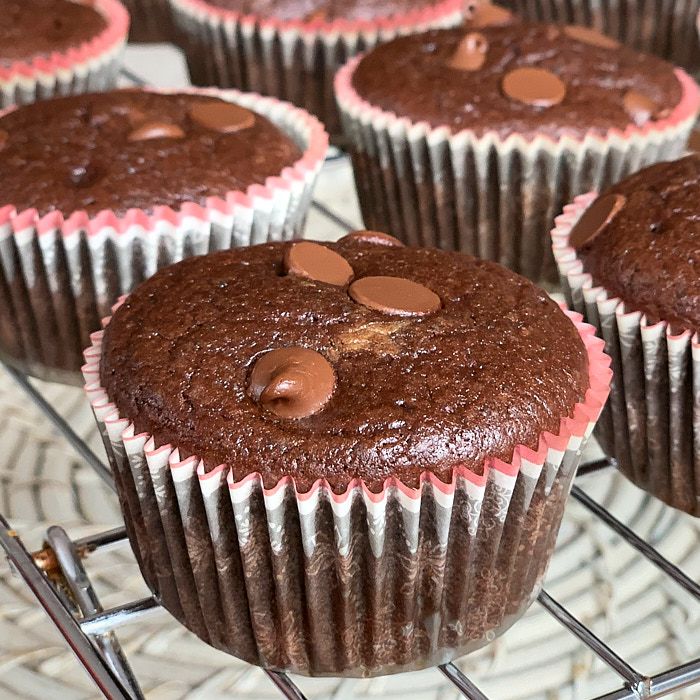 With the spread of coronavirus in NYC, we have been spending a lot of time together as a family. The boys' schools have both instituted online learning, so their days have structure to them. They don't get up quite as early as they used to, because they don't have to commute, and although they have to be in dress code at 8:30 a.m. for their morning advisement meeting using Zoom, I can't say that they don't have pajama bottoms on.

These muffins use a whole can of black beans (don't tell the boys), but not one of them noticed. They all loved the muffins. Fingers crossed that they don't read this post!

We are very grateful for our health and for so many other things. I wish all of you health and safety during these uncertain days.



Flourless Black Bean Brownie Muffins
Recipe from Ambitious Kitchen

1 (15 ounce) can of black beans, rinsed and drained
3 large eggs
1/2 cup pure maple syrup (honey can be a substitute)
2 Tablespoons coconut oil, melted and cooled
1 teaspoon vanilla extract
1 Tablespoon brewed coffee (optional – to enhance chocolate flavor)
1/2 cup high-quality unsweetened cocoa powder
1 teaspoon baking powder
1/4 teaspoon salt
1/3 cup dark chocolate chips, plus 2 tablespoons for sprinkling on top (semi-sweet chips can be a substitute)

Preheat oven to 350 degrees F. Line a 12-cup muffin tin with cupcake liners and spray the inside of each liner very lightly with nonstick cooking spray.

Place black beans and 1 egg in food processor and process until beans are well blended.  Add two other eggs, maple syrup, coconut oil, vanilla and coffee; process again until smooth.

Add cocoa powder, baking powder and salt; process once more until smooth. Next, fold in 1/3 cup of chocolate chips.

Divide batter evenly among muffin cups. Sprinkle remaining chocolate chips on the top of each cup of muffin batter.

Bake for 25 minutes or until a toothpick inserted into the middle of a muffin comes out clean. Place the tin on a wire rack for 10 minutes to cool then remove the muffins from the tin and place them on a rack to cool completely. Once cool, store the muffins in an airtight container. If they last more than a day in your house, store them in the refrigerator.

Yield: 12 muffins


One year ago:  Chouquettes
Two years ago:  Chocolate Olive Oil Cake
Three years ago:  Lemon White Chocolate Bars
Four years ago:  Oatmeal Scotchies
Five years ago:  Nutella Biscuits
Six years ago:  Spinach and Chickpea Curry
Seven years ago:  Salted Chocolate Caramels
Eight years ago:  Ultimate Shepherd's Pie
Nine years ago:  Pink Grapefruit Sorbet
Ten years ago:  Tortillitas With Shrimp
Eleven years ago:  Croissant Bread Pudding
Twelve years ago: Basil Parmesan Chicken Salad
[print_list]