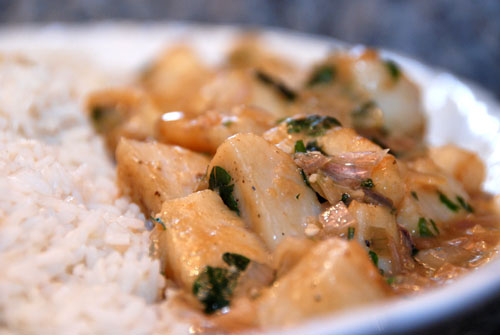 There's a farmers market across the street from my apartment and on Saturdays a vendor selling fresh fish comes in from Montauk.  Yesterday he had freshly caught sea scallops.   I'm spoiled.   I won't buy any scallops buy "dry" ones.   What's a "dry" scallop you ask?   My mom taught me this one.   First let me describe "wet" scallops.   They have been treated with STP (sodium tripolyphosphate), which is a solution that keeps them moist and plump looking and gives them a much longer shelf life.   What you're not told is that although they may look good in the fish case, these scallops will end up being rubbery and you may have a hard time browning them properly because of all of the extra moisture that has been added to them.   Not fun.   Whenever you see scallops for sale, and they're not marked either "wet" or "dry", be sure to ask.    Once you've had fresh, "dry" scallops, with their sweet taste and tender texture, you'll never go back.  Promise.
The triplets turned 7 yesterday and my parents and one of our aunts came in for a family dinner.   I served these scallops over rice and baked sweet potato fries. Everyone loved them except the boys (of course). For them, I was a short-order cook like usual. Everyone tells me that one day they'll eat us out of house and home.   I look forward to it, as long as they eat more than bread and pasta!
Scallops Provencal
From Barefoot in Paris by Ina Garten

1 pound fresh bay or sea scallops
Kosher salt and freshly ground black pepper
All-purpose flour, for dredging
4 tablespoons (1/2 stick) unsalted butter, divided
1/2 cup chopped shallots (2 large)
1 garlic clove, minced
1/4 cup chopped fresh flat-leaf parsley leaves
1/3 cup dry white wine
1 lemon, cut in 1/2

If you're using bay scallops, keep them whole. If you're using sea scallops, cut each 1 in half horizontally. Sprinkle with salt and pepper, toss with flour, and shake off the excess.

In a very large saute pan, heat 2 tablespoons of the butter over high heat until sizzling and add the scallops in 1 layer. Lower the heat to medium and allow the scallops to brown lightly on 1 side without moving them, then turn and brown lightly on the other side. This should take 3 to 4 minutes, total. Melt the rest of the butter in the pan with the scallops, then add the shallots, garlic, and parsley and saute for 2 more minutes, tossing the seasonings with the scallops. Add the wine, cook for 1 minute, and taste for seasoning. Serve hot with a squeeze of lemon juice.

Serves 3.

Print This Recipe