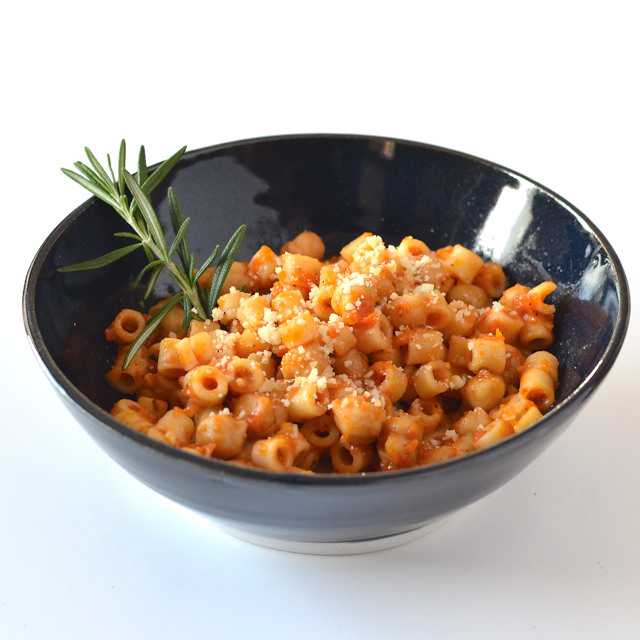 We ate this last night for dinner. After all these years, do you think the boys shared it with us? Nope. Do you think the boys wanted to try it? Um, nope. Some things never change. I even made it vegetarian, so it would potentially appeal to my vegetarian son. No luck.
This dish was delicious as a vegetarian meal. I followed the recipe as it is written and simply omitted the pancetta and the anchovy. I can imagine that the recipe could be perhaps even better with these additions, but it was really great without them. It has a surprising amount of flavor, and the red pepper flakes add some nice heat. I liked this recipe because it called for canned chickpeas. Many recipes call for dried chickpeas which you have to either precook or soak overnight. I enjoy recipes that don't involve starting the day before.
There are a million pasta e ceci recipes on the web. Some use short pasta, some long, some use lots of tomatoes, some not so many. Some recipes are vegetarian, others, like this one call for meat (but are excellent without the meat). Some are more like traditional pasta dishes, and others are soups. I am quite happy with this variation and will continue to use it.
When you chop the fresh rosemary for this dish, be sure to mince it well. It's no fun to get a big piece of rosemary in your mouth.
Pasta e Ceci (Pasta with Chickpeas)
Recipe from Cooks Illustrated

2 ounces pancetta, cut into 1/2-inch pieces – (I skipped this to make the dish vegetarian)
1 small carrot, peeled and cut into 1/2-inch pieces
1 small celery rib, cut into ½-inch pieces
4 garlic cloves, peeled
1 onion, halved and cut into 1-inch pieces
1 (14-ounce) can whole peeled tomatoes, drained
1/4 cup extra-virgin olive oil, plus extra for serving
1 anchovy fillet, rinsed, patted dry, and minced (I skipped this to make the dish vegetarian)
1/4 teaspoon red pepper flakes
2 teaspoons minced fresh rosemary
2 (15-ounce) cans chickpeas (do not drain)
2 cups water
Salt and pepper
8 ounces (1 1/2 cups) ditalini (short, round tubular pasta)
1 tablespoon lemon juice
1 tablespoon minced fresh parsley
1 ounce Parmesan cheese, grated (~1/2 cup)

If using, process pancetta in food processor until ground to paste, about 30 seconds, scraping down sides of bowl as needed. Add carrot, celery, and garlic and pulse until finely chopped, 8 to 10 pulses. Add onion and pulse until onion is cut into 1/8- to 1/4-inch pieces, 8 to 10 pulses. Transfer pancetta mixture to large Dutch oven. Pulse tomatoes in now-empty food processor until coarsely chopped, 8 to 10 pulses. Set aside.

Add oil to pancetta mixture in Dutch oven and cook over medium heat, stirring frequently, until fond begins to form on bottom of pot, about 5 minutes. Add anchovy (if using), pepper flakes, and rosemary and cook until fragrant, about 1 minute. Stir in tomatoes, chickpeas and their liquid, water, and 1 teaspoon salt and bring to boil, scraping up any browned bits. Reduce heat to medium-low and simmer for 10 minutes. Add pasta and cook, stirring frequently, until tender, 10 to 12 minutes. Stir in lemon juice and parsley and season with salt and pepper to taste. Serve, passing Parmesan and extra oil (if desired) separately.

Yield: 4 – 6 servings

One year ago: Chocolate Chip Oatmeal Cookies
Two years ago: Sugared Pretzel Cookies
Three years ago: Carrot Soup with Ginger and Lemon
Four years ago: Zvi's Cinnamon Swirl Bread
Five years ago: Roasted Butternut Squash
Six years ago: Parmesan Cheese Crackers
Seven years ago: Cardamom Spritz Cookies
Eight years ago: Chocolate Chip Banana Bread

Print This Recipe