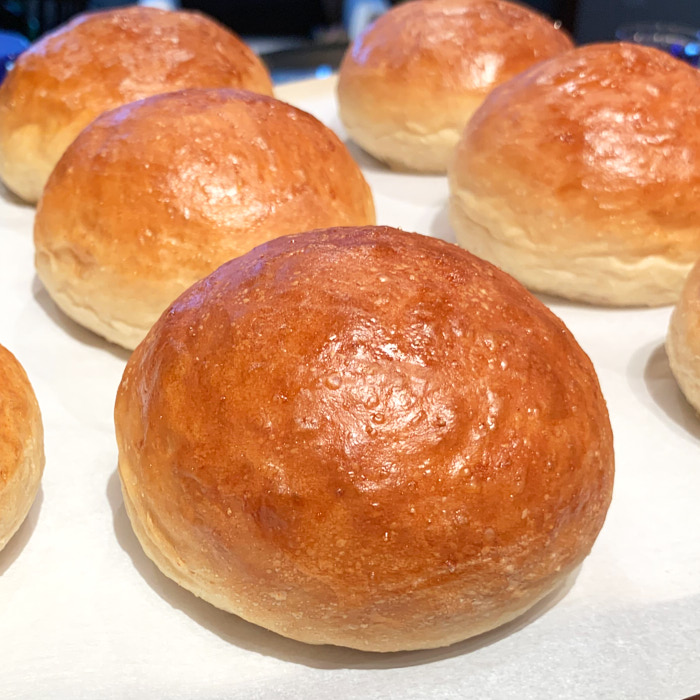 Yeast and I have had a rocky relationship over the years. It's only recently that we've become good friends. Our relationship was solidified after I took a bread making class at Sur Le Table with one of my sons. We made several kinds of bread during a three-hour class, and they were all easy to make and delicious. Our instructor swore by the yeast that we used in the class – Saf- Instant Yeast. She highlighted that unlike other yeasts, this yeast required no pre-disolving or proofing. We bought a pound right after the class, which is a lot if you don't bake bread all the time, but we were told it would last a long time in the freezer, so that's where ours is right now. This yeast has been life-changing for me.

I attribute the fact that these burger buns turned out so well to the yeast. They rose perfectly during both the initial and the second rise.

The recipe makes 8 buns. If you don't eat them all on the first day, put them on a plate and wrap them tightly with plastic wrap and they'll still be good the next day. Because the don't contain any preservatives, I don't think they'll remain fresh much longer than that, but in our house they'll never last more than two days. Our boys love bread.

The original recipe calls for brushing melted butter on the rolls before baking. I had an extra egg white hanging around, so I brushed them with that and the result was a darker top to the buns.

These buns were a HUGE hit in our house. Some of us ate them with hamburgers, some with veggie burgers and some with tofu. The boys are asking for them again already.
Burger Buns
Recipe from King Arthur Flour

3/4 to 1 cup (170g to 227g) lukewarm water*
2 tablespoons (28g) butter, at room temperature
1 large egg
3 1/2 cups (418g) King Arthur Unbleached All-Purpose Flour
1/4 cup (50g) sugar
1 1/4 teaspoons salt
1 tablespoon instant yeast

*For best results (a smooth, slightly soft dough), use the smaller amount of water in summer (or in a humid environment), the greater amount in winter (or in a dry climate); and something in between the rest of the time.

Topping: 3 tablespoons (43g) melted butter or one egg white beaten with 2 Tablespoons of water


Mix and knead all of the dough ingredients — by hand, mixer, or bread machine — to make a soft, smooth dough.

Cover the dough, and let it rise for 1 to 2 hours, or until it's nearly doubled in bulk.

Gently deflate the dough, and divide it into 8 pieces. Shape each piece into a round ball; flatten to about 3″ across. Place the buns on a lightly greased or parchment-lined baking sheet, cover, and let rise for about an hour, until noticeably puffy.

Brush the buns with about half of the melted butter or the egg white.

Bake the buns in a preheated 375°F oven for 15 to 18 minutes, until golden. Remove them from the oven, and brush with the remaining melted butter. This will give the buns a satiny, buttery crust.**

**I skipped brushing the buns with melted butter after they were baked without any ill effects.

Yield: 8 buns


One year ago:  Chouquettes
Two years ago:  Delicious Lemon Loaf
Three years ago:  Lemon White Chocolate Bars
Four years ago:  Oatmeal Scotchies
Five years ago:  Surprise Cookies
Six years ago:  Creamy Curried Cauliflower Soup
Seven years ago:  Coconut Bread
Eight years ago:  Curried Lentil Stew with Potatoes
Nine years ago:  Oatmeal, Cranberry and Chocolate Chunk Cookies
Ten years ago:  Crisp Roasted Potatoes
Eleven years ago:  Frozen Chocolate Covered Bananas
Twelve years ago: Grandma Sachs' Crumb Cake (one of my all-time favorite recipes!)





Print This Recipe