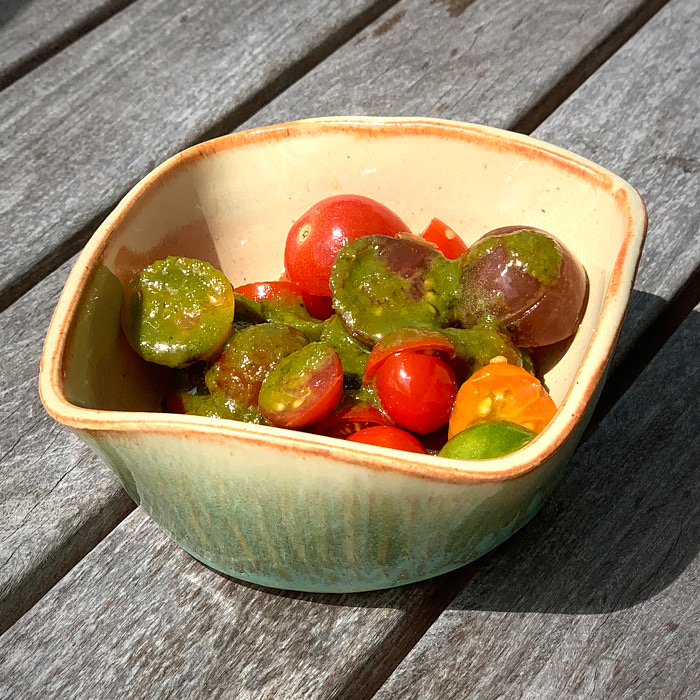 I grew four different types of basil this summer and all of them did very well. The one kind I didn't grow is Thai basil, and based on how many times I bought it at our farmer's market this summer, I'll definitely try to grow my own next summer. The star of this recipe is the Thai Basil Dressing. On fresh tomatoes in the summer, it's an unbelievable salad – definitely my favorite this summer.

Last weekend the farmer's market was out of Thai basil, so I brought home some lime basil and tried to make a savory dressing out of it. Big mistake. I think it would have made a better ice cream. If you see Thai basil in a market, don't pass it up. This dressing is easy to make and oh so good. You can use the dressing immediately, but if you can make it a day ahead, I think it's even better the second day.

The beautiful dish was made by my sister!


Tomatoes with Thai Basil Dressing
Dressing recipe from Local Food Rocks

1/2 cup fresh Thai basil leaves
1 garlic clove, minced
1/3 cup extra virgin olive oil
1/4 cup rice wine vinegar
1 Tablespoon lime juice
1 teaspoon honey
1/8 teaspoon Kosher salt, or to taste
freshly ground pepper to taste
tomatoes, sliced

Place all of the ingredients, except the tomatoes, in a blender and puree. Taste and add additional salt and pepper as needed.

Pour the dressing over the tomatoes and enjoy.


One year ago:  Excellent Blondies
Two years ago:  Black Bean Salad
Three years ago:  Sprinkle Cookies
Four years ago:  Hummus
Five years ago:  Curried Peas and Tofu
Six years ago:  Rosemary Butter Cookies
Seven years ago:  Cinnamon Roll Bites
Eight years ago:  Pumpkin Pie Refrigerator Oatmeal
Nine years ago:  Toasted Corn, Cherry Tomato, and Edamame Salad
Ten years ago:  French Gougères
Eleven years ago:  Roasted Potatoes
Twelve years ago: Tuna Salad with Cannellini Beans

Print This Recipe