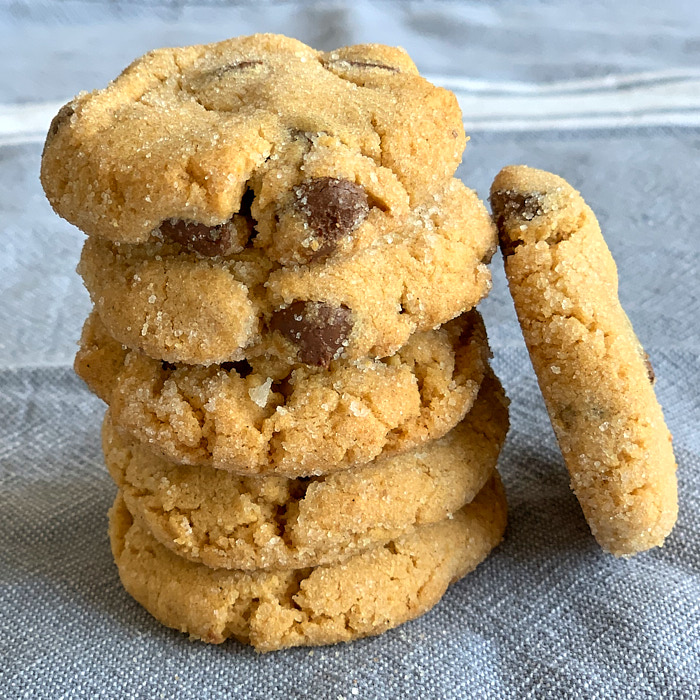 Who doesn't love a good peanut butter cookie? During this pandemic I have been doing lots of cooking and lots of reading. I love to borrow e-books from the library, and I have found that lots of cookbooks are available to borrow. This cookie recipe comes from the Magnolia Bakery Cookbook. Magnolia Bakery is a great NYC bakery that happens to be around the corner from our apartment. They make a wonderful banana pudding and delicious cupcakes. That said, pretty much anything they make is excellent.

If you're a fan of peanut butter cookies, try these. The only problem is that they call for peanut butter chips, which you might not have on hand, but if you decide to buy a bag, I bet you'll make these cookies a couple of times to use them up.

The school year is winding down for the boys. AP exams are next week and will be taken online from home. Finals will be taken from home as well. There will be no graduation this year for the triplets. I hope they're able to safely start school again in the fall. Although the school year is not ending with the celebrations that we expected, we are extremely grateful for all we have, especially for our health.



Peanut Butter Cookies
Recipe adapted slightly from Magnolia Bakery Cookbook via Smitten Kitchen

1 1/4 cups (165 grams) all-purpose flour
3/4 teaspoon baking soda
1/2 teaspoon baking powder
1/4 teaspoon salt
1/2 cup (115 grams or 4 ounces) unsalted butter, softened
1 cup (255 grams) peanut butter at room temperature 
3/4 cup (150 grams) sugar
1/2 cup (145 grams) firmly packed light brown sugar
1 large egg, at room temperature
1 tablespoon (15 ml) milk
1 teaspoon (5 ml) vanilla extract
1/2 cup peanut butter chips
1/2 cup chocolate chips
2 Tablespoons granulated sugar for coating the dough before baking

Preheat oven to 350 degrees. In a large bowl, combine the flour, the baking soda, the baking powder, and the salt. Set aside.

In a large bowl, beat the butter and the peanut butter together until fluffy. Add the sugars and beat until smooth. Add the egg and mix well. Add the milk and the vanilla extract. Add the flour mixture and beat thoroughly. Stir in the peanut butter and chocolate chips.

Place the 2 Tablespoons of granulated sugar in a small bowl. Either using a small ice cream/cookie scoop or two teaspoons, created a rounded ball of dough (about a Tablespoon's worth) and roll it in the granulated sugar. Place the dough on an ungreased cookie sheet, leaving several inches between each cookie. Bake for 10 to 12 minutes. Do not overbake. Cookies may appear to be underdone, but they are not.

Cool the cookies on the sheets for 1 minute, then remove to a rack to cool completely.



One year ago:  "Chorizo" Tacos (my vegetarian son LOVES these!)
Two years ago:  Delicious Lemon Loaf
Three years ago:  Cacio e Pepe Potatoes Anna
Four years ago:  Salted Brown Butter Rice Krispie Treats
Five years ago:  Texas Sheet Cake
Six years ago:  Chock-Full-of-Chips Drops
Seven years ago:  Chocolate Whoopie Pies with Salted Peanut Butter Filling
Eight years ago:  Tzatziki Potato Salad
Nine years ago:  Super Moist Banana Bread
Ten years ago:  Chocolate Hazelnut Biscotti
Eleven years ago:  Snickerdoodle Blondies
Twelve years ago: Blueberry Coffee Cake Muffins

Print This Recipe